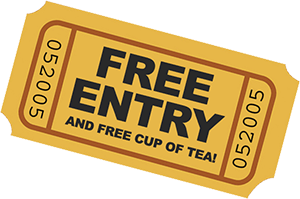 Back by popular demand for a sixth year, Compassionate Derby is a free ethical living event where everyone is welcome!
Wide Range of Stalls
Ethical Gift Ideas
We'll have more than 40 stalls at Compassionate Derby where you can find a wide range of cruelty-free food and lifestyle products, lots of free samples, and learn about the great work of many local and national charity and campaigning organisations for animals, people and planet.
Tasty Vegan Food
FREE Food Samples
If you're new to vegan food or are looking for fresh ideas, we have lots of food stalls for you. From fast food to artisan cakes, vegan meat substitutes to ethical sweets and chocolate, you'll be sure to find many things that tickle even the most discerning taste-buds.
Inspiring Talks
Cookery Demonstrations
In our free cookery demonstrations, you'll discover how easy it is to create tasty vegan food the whole family will love. Throughout the day, we'll also have informative talks on a range of ethical issues and campaigns.
Supporting Brinsley
Animal Rescue
Proceeds from this year's Compassionate Derby event will be going to our local animal sanctuary Brinsley Animal Rescue.
The incredible people at Brinsley Animal Rescue work tirelessly to help rescue and rehabilitate injured wildlife and rehome unwanted pets and animals used by the farming industry, such as chickens, sheep and pigs. The sanctuary is run by volunteers and receives no financial support other than donations from the public.
Stallholders
There will be a range of cruelty-free food and lifestyle products, lots of free samples, charity and campaigning stalls for animals, people and planet.
Tasty Vegan Food
You won't know what you're missing until you give it a try. Luckily for you, there'll be lots of choice and lots of free samples!
Inspiring Talks
Please note: all speakers and timings are subject to change.
| | |
| --- | --- |
| 11:15 | The League Against Cruel Sports will speak about the work they do to expose and end the cruelty inflicted on animals in the name of sport. |
| 12:00 | The Dr. Hadwen Trust will speak about the development of techniques and procedures to replace the use of animals in biomedical research. |
| 13:15 | The Vegan Approach will demonstrate easy, practical and friendly approaches towards veganism. |
| 14:30 | Local humanitarian charities will speak about their work to alleviate suffering of people in the UK and globally. |
| 15:15 | Author and inspirational speaker Sharon Bull will talk about her recent visit to an Animals Asia Sanctuary. |
| 16:00 | Nottinghamshire Animal Save will talk about the rising movement that is documenting the last journey of animals to slaughter in "Bearing Witness". |
| 16:15 | Veteran animal welfare activist and reformed fisherman Dave Brock will present the ethical implications of fishing as a sport or pastime. |
These additional talks and demonstrations will be taking place in the Vegan Cookery Space.
| | |
| --- | --- |
| 11:00 | Food for a Future Cookery Demonstration: Sticky Toffee Pudding. |
| 11:45 | Food for a Future Cookery Demonstration: Cranberry and Walnut Soft Cheese. |
| 12:30 | Food for a Future Cookery Demonstration: Scrambled Tofu. |
| 13:00 | Food for a Future Cookery Demonstration: Derbyshire Oatcakes. |
| 13:30 | Food for a Future Cookery Demonstration: Power Protein Foods - Brownies and Smoothie. |
| 14:00 | Nottinghamshire Animal Save Talk: Bearing Witness. |
| 14:15 | Wildlife & Eco Gardens Talk: Make the Most of Your Garden - Why gardens are important as wildlife havens, and principles of permaculture and sustainability. |
| 15:00 | Praxis Probiotics Cookery Demonstration: Making Fermented Foods. |