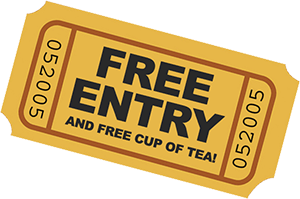 Back by popular demand for a seventh year, Compassionate Derby is a free ethical living event where everyone is welcome!
Wide Range of Stalls
Ethical Gift Ideas
We'll have more than 40 stalls at Compassionate Derby where you can find a wide range of cruelty-free food and lifestyle products, lots of free samples, and learn about the great work of many local and national charity and campaigning organisations for animals, people and planet.
Tasty Vegan Food
FREE Food Samples
If you're new to vegan food or are looking for fresh ideas, we have lots of food stalls for you. From fast food to artisan cakes, vegan meat substitutes to ethical sweets and chocolate, you'll be sure to find many things that tickle even the most discerning taste-buds.
Inspiring Talks
Cookery Demonstrations
In our free cookery demonstrations, you'll discover how easy it is to create tasty vegan food the whole family will love. Throughout the day, we'll also have informative talks on a range of ethical issues and campaigns.
Supporting Brinsley
Animal Rescue
Proceeds from this year's Compassionate Derby event will be going to our local animal sanctuary Brinsley Animal Rescue.
The incredible people at Brinsley Animal Rescue work tirelessly to help rescue and rehabilitate injured wildlife and rehome unwanted pets and animals used by the farming industry, such as chickens, sheep and pigs. The sanctuary is run by volunteers and receives no financial support other than donations from the public.
Stallholders
There will be a range of cruelty-free food and lifestyle products, lots of free samples, charity and campaigning stalls for animals, people and planet.
Tasty Vegan Food
You won't know what you're missing until you give it a try. Luckily for you, there'll be lots of choice and lots of free samples!
Inspiring Talks
Please note: all speakers and timings are subject to change.
Talk Schedule (Downstairs Church Hall)
11:15 - 12:00
"Homeless at Christmas" - Kerry from the Padley Group and Cath from Derbyshire Refugee Solidarity
Kerry is from Derby based homelessness charity the Padley Group. She talks about what Christmas looks like for people living on the streets, how Padley Group can help and how you can help. Cath is from Derbyshire Refugee Solidarity, which has been collecting, sorting and delivering vital aid to refugees in camps across Northern France, Greece, Syria and Lebanon.
12:15: - 12:30
Spoken Word with Emerciana Desouza
Emerciana writes heartfelt and surreal outpourings, prayers and ramblings in response to her experience of the world around her. Within that are hopes for more compassion, love and unity for all.
12:30 - 1:15
"Why do people choose to go vegan?" - Peter from The Vegan Society
Find out how you can save the planet, protect animals, reduce starvation and live longer by making a change in your life. Peter will give you tips on going vegan and where to find the latest vegan food innovations.
1:30 – 1:45
Spoken Word with Sophie Sparham
Sophie's poetry focuses on political and social subjects, such as depression, LGBT+ and women's issues. Sophie is also a committed vegan.
1:45 – 2:15
"Beyond Consumerism" - Ruth from Ethical Consumer magazine
Explore your purchasing power, and also our power to produce and create; share, care, engage and repair.
2:30 – 3:00
"Alternatives to animal experiments in education" - Nick from InterNICHE
What are the humane alternatives to animal experiments and dissections in education? For students doing medical, veterinary and biology degrees, is 100% replacement possible? Come and hear about exciting progress at the meeting of animal protection and science education.
3:15 – 3:30
"The ethical implications of fishing as a sport or pastime" - by Dave Brock
Veteran animal welfare activist and reformed fisherman.
3:45 – 4:15
"4000 species and counting: the insatiable appetite for the next craze in the exotic pet trade." - Clare from Graces Rest Rescue
The international exotic pet trade is out of control and driving some species to the brink of extinction, could a #positivelist4pets be the answer?
Cookery Demonstrations
Vegan Cookery Space (Downstairs Church Hall)
Organised by 'Food For A Future' Cookery Campaign Group
| | |
| --- | --- |
| 11:00 | Spiced and minted doner seitan |
| 11.20 | Sweetened pumpkin seed milk |
| 11.40 | Chocolate banana mousse |
| 12:00 | Spinach and potato tortilla pierogies with garlic sour cream |
| 1.00 | Coconut curry with marinated tofu |
| 1.45 | Avocado fettuccine Alfredo |
| 2.30 | Sweet and sour tofu |