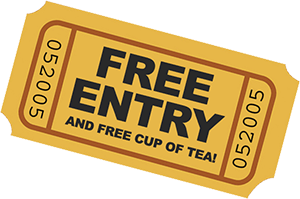 Back by popular demand for an eigth year, Compassionate Derby is a free ethical living event where everyone is welcome!
Wide Range of Stalls
Ethical Gift Ideas
We'll have more than 40 stalls at Compassionate Derby where you can find a wide range of cruelty-free food and lifestyle products, lots of free samples, and learn about the great work of many local and national charity and campaigning organisations for animals, people and planet.
Tasty Vegan Food
FREE Food Samples
If you're new to vegan food or are looking for fresh ideas, we have lots of food stalls for you. From fast food to artisan cakes, vegan meat substitutes to ethical sweets and chocolate, you'll be sure to find many things that tickle even the most discerning taste-buds.
Inspiring Talks
Cookery Demonstrations
In our free cookery demonstrations, you'll discover how easy it is to create tasty vegan food the whole family will love. Throughout the day, we'll also have informative talks on a range of ethical issues and campaigns.
Supporting Brinsley
Animal Rescue
Proceeds from this year's Compassionate Derby event will be going to our local animal sanctuary Brinsley Animal Rescue.
The incredible people at Brinsley Animal Rescue work tirelessly to help rescue and rehabilitate injured wildlife and rehome unwanted pets and animals used by the farming industry, such as chickens, sheep and pigs. The sanctuary is run by volunteers and receives no financial support other than donations from the public.
Stallholders
There will be a range of cruelty-free food and lifestyle products, lots of free samples, charity and campaigning stalls for animals, people and planet.
Tasty Vegan Food
You won't know what you're missing until you give it a try. Luckily for you, there'll be lots of choice and lots of free samples!
Inspiring Talks
Please note: all speakers and timings are subject to change.
Talk Schedule (Downstairs Church Hall)
11:00 - 11:45
"Wildlife Under Threat: Protect our Badgers" - Roger from The League Against Cruel Sports
Find out how to spot if badgers live near you, how to help them, who would want to do harm to them, what is the the badger cull and how it's linked to the dairy industry.
11:45 - 12:00
Spoken Word Performance - Umbilica
Umbilica is the creative moniker of Josephine Lewis, who explores themes of relationships, gender politics and connectedness through her poetry and songcraft. She is one of three co-founders of the female-led performance night She Speaks UK, an inclusive and supportive safe space for women, non-binary and all performers to express and share their art.
12:00 - 12:30
"Think Like a Tree" - Sarah Spencer
Unlocking nature's secrets to happiness health and wellbeing. Sarah will share how a set of principles, derived from nature, can help improve our lives. She will also share her own experience of using nature's wisdom in her own life and how she anchors the principles in a design cycle that can be used for a wide variety of circumstances.
12:30 - 12:45
Spoken Word Performance - Stan 'Ranty Granty'
Stan 'Ranty Granty' is a punk poet with big ideas, and a bigger mouth. His work addresses issues such as political corruption, activism, solidarity, and mental health.
12:45 - 13:15
"The Accidental Rescue" - Suzie from Brinsley Animal Rescue
Volunteer Suzie will be telling us all about volunteer-led, vegan-run sanctuary Brinsley Animal Rescue. Hear about some of its most endearing residents, such as Blind Boris, a huge, gentle bull who was rescued by the sanctuary as a youngster because his disability meant he wouldn't grow fast enough to go for beef. Our event is in aid of this fantastic rescue.
13:15 - 13:30
Spoken Word Performance - Simon ...pr@xis?.. Jones
Rapping to the roots, from the personal to the political.
13:30 - 14:00
"From Home to Here: One Refugee's Journey" - Hafiz from Derbshire Refugee Solidarity
DRS is a grassroots charity based in Derby, working in solidarity with refugees here and overseas by providing emergency aid. Volunteer Hafiz will tell you his story of how he came to the UK as a refugee from Afghanistan.
14:15 - 14:45
"Concerned about Palm Oil?" - Ruth from Ethical Consumer Magazine
The recent Iceland banned palm oil advert has caused a real stir. Find out more about the palm oil issue and pick up an action list.
15:00 - 15:30
"The ethical implications of fishing as a sport or pastime" - Dave Brock
Veteran animal welfare activist and reformed fisherman.
15:45 - 16:15
"What is the Derby People's Diary?" - Ruth
Find out more about Derby People's Diary! To support compassionate community and campaigning groups in Derby, we run an online calendar, mini magazine and events. Come and help us create a word collage for our next zine!
Cookery Demonstrations
Vegan Cookery Space (Downstairs Church Hall)
Organised by 'Food For A Future' Cookery Campaign Group
| | |
| --- | --- |
| 11.30 | Cauliflower and broccoli cheese |
| 12.30 | Mushroom and spinach pasta with homemade parmesan |
| 13.30 | Tempeh fish |
| 14.30 | Hummus |
| 15.00 | Onion bhajis |