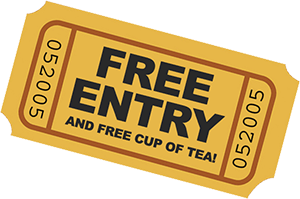 Back by popular demand for an ninth year, Compassionate Derby is a free ethical living event where everyone is welcome!
Wide Range of Stalls
Ethical Gift Ideas
We'll have more than 40 stalls at Compassionate Derby where you can find a wide range of cruelty-free food and lifestyle products, lots of free samples, and learn about the great work of many local and national charity and campaigning organisations for animals, people and planet.
Tasty Vegan Food
FREE Food Samples
If you're new to vegan food or are looking for fresh ideas, we have lots of food stalls for you. From fast food to artisan cakes, vegan meat substitutes to ethical sweets and chocolate, you'll be sure to find many things that tickle even the most discerning taste-buds.
Inspiring Talks
Cookery Demonstrations
In our free cookery demonstrations, you'll discover how easy it is to create tasty vegan food the whole family will love. Throughout the day, we'll also have informative talks on a range of ethical issues and campaigns.
Supporting Brinsley
Animal Rescue
Proceeds from this year's Compassionate Derby event will be going to our local animal sanctuary Brinsley Animal Rescue.
The incredible people at Brinsley Animal Rescue work tirelessly to help rescue and rehabilitate injured wildlife and rehome unwanted pets and animals used by the farming industry, such as chickens, sheep and pigs. The sanctuary is run by volunteers and receives no financial support other than donations from the public.
Stallholders
There will be a range of cruelty-free food and lifestyle products, lots of free samples, charity and campaigning stalls for animals, people and planet.
Tasty Vegan Food
You won't know what you're missing until you give it a try. Luckily for you, there'll be lots of choice and lots of free samples!
Inspiring Talks
Please note: all speakers and timings are subject to change.
Talk Schedule (Downstairs Church Hall)
11:00 - 11:20
Songs to get us in the Green Festive Spirit with Derby XR Choir
Derby Extinction Rebellion share some alternative Christmas carols. Audience participation is warmly invited!
11:30 - 11:45
Spoken Word Performance with Simon ...pr@xis?.. Jones
Rapping to the roots, from the personal to the political.
12:00 - 12:30
Climate Urgency, Animal Emergency and what to do about it with Jane Tredgett
In this talk Jane Tredgett, founder of Humane Being and Animal Rebellion, will give a brief introduction to the problems of the climate crisis, biodiversity loss, habitat destruction, ecozone collapse and extinction of species and more importantly - what we can do about it.
12:45 - 13:15
Navigating Politics in the Face of Climate Crisis and Ecological Breakdown with Edward Pickering-Symes
We need to secure a proactive government which will make certain that we are prepared for future climate over-heating, flooding, and sea level rises, almost all of which are "locked in" through past emissions which will remain in the atmosphere for decades to come. We need to protect the biodiversity which gives our life support systems stability. We also need to change things so that our environment can start to recover and we can build an inclusive society as times get harder. Extinction Rebellion Derby offer advice, without promoting any particular party, to support you in making an informed choice. Led by Edward Pickering-Symes, Extinction Rebellion Derby.
13:30 - 13:45
Spoken Word Performance with Sophie Sparham
Sophie's poetry focuses on political and social subjects, such as depression, LGBT+ and women's issues.
14:00 - 14:30
How to Go Vegan by Dr Carys Bennett
Millions of people are choosing to eat vegan to help animals, combat climate change, and improve their own health. It's easy to cook nutritious vegan meals at home on a budget, and vegan sausage rolls, pizzas, burgers, doughnuts, and ice creams are popping up everywhere. PETA is here to support you – Carys will guide you through making the switch, explain how to cook vegan, and give you tips on staying vegan. This could be the best decision you've ever made!
14:45 - 15:15
Participatory wild fermentation workshop for probiotic nutrition and gut health with Simon Jones
Hands on sauerkraut making workshop led by Simon Jones of Praxis Probiotics. Sauerkraut is a fermented cabbage that is great for your gut. The workshop is limited to 10 participants, but everyone welcome to watch!
15:30 - 15:55
The ethical implications of fishing as a sport or pastime by Dave Brock
Led by Dave Brock, veteran animal welfare activist and reformed fisherman.
16:00 - 16:15
Spoken Word and Music Performance with Richard Banker
Carrying on the struggle, hope for the future, memories of youth and getting back to the garden.
Cookery Demonstrations
Vegan Cookery Space (Downstairs Church Hall)
Organised by 'Food For A Future' Cookery Campaign Group
| | |
| --- | --- |
| 11.30 | Keftedes (crispy deep fried carrot balls) |
| 12.30 | Tofu "Egg" and Cress Sandwiches |
| 13.30 | Chickpea Stir Fry |
| 14.30 | Tarka Dhaal |
| 15.30 | Salisbury "Steak" with Mushroom Gravy |